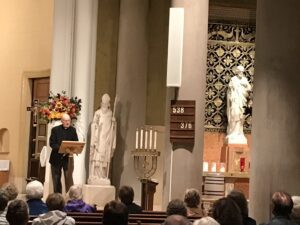 In honor of "Year of St. Joseph" Father James McKarns gave a presentation "God's Just, Patient and Attentive Servant" in the church, on WEDNESDAY, SEPTEMBER 22, 2021.

   First, we will heard about the recent Apostolic Letter of Pope Francis, "Patris Corde – A Father's Heart."  Secondly, various popes and saints were noted as some who especially gave impressive honor to St. Joseph. Thirdly, the passages of SS. Matthew and Luke, about St. Joseph, offered scriptural insights about the husband of Mary, the faster Father of Jesus and this most unique person who is admired and honored as this just, patient and attentive servant of God.  All people who desire to serve God can find in St. Joseph, true qualities, which can give us guidance and inspiration to live our spiritual lives.
The program was well attended by many parishioners as well as surrounding parishes.