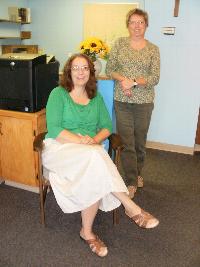 The Director of Religious Education and Youth Ministry is Mrs. Rose Naegeli -Marsi.
Mrs. Naegeli-Marsi comes to us with 15 years of experience in teaching religion at Central Catholic High School and St. Thomas Aquinas and as Director of Religious Education"DRE"and Youth Minister. She holds a Bachelor of Arts in Social Work  from Malone University and a Masters in Pastoral Ministry from Loyola, New Orleans, LA.
In her spare time she enjoys photography, reading, hiking and cross country skiing. She also enjoys spending time, including kayaking with her four legged friend Foxy!
The Administrative Assistant to Mrs. Naegeli-Marsi  is Mrs. Patti Long. She has been employed in the Religious Education Office at St. Joseph for 17 years.
Mrs. Long is a graduate of St. Joseph Elementary School and Central Catholic High School and is a fully Certified Catechist with the Diocese of Youngstown.
She enjoys tending to her vegetable and flower garden, reading, camping and spending time with her family and friends.  She looks forward to every year of Religious Education.
The Religious Education Department is located on the first floor of St. Joseph School. (In the former school office) For further information contact Rel. Ed. at 330-454-2144.