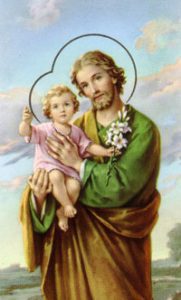 St. Joseph Feast Day is Friday, March 19th. Please come celebrate our patron saint at the 8:00AM Mass.
First appearing in the gospels of Matthew and Luke, Saint Joseph was the earthly father of Jesus Christ and the husband of the Virgin Mary.
Who Was Saint Joseph?
Venerated as a saint in many Christian sects, Saint Joseph is a biblical figure who is believed to have been the corporeal father of Jesus Christ. Joseph first appears in the Bible in the gospels of Matthew and Luke; in Matthew, Joseph's lineage is traced back to King David. According to the Bible, Joseph was born circa 100 B.C.E. and later wed the Virgin Mary, Jesus's mother. He died in Israel circa 1 A.D.
PRAYER
"O Saint Joseph, I never weary contemplating you and Jesus asleep in your arms; I dare not approach while He reposes near your heart. Press Him in my name and kiss his fine head for me and ask him to return the Kiss when I draw my dying breath." "Saint Joseph, Patron of departed souls – pray for me.