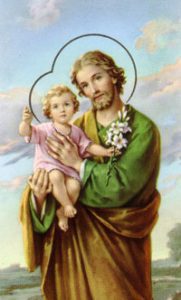 With the Apostolic Letter "Patris corde" ("With a Father's Heart"), Pope Francis recalls the 150th anniversary of the declaration of Saint Joseph as Patron of the Universal Church. To mark the occasion, the Holy Father has proclaimed a "Year of Saint Joseph" from, 8 December 2020, to 8 December 2021.
Come celebrate our patron saint, St. Joseph on his feast day, FRIDAY, MARCH 19TH AT 8:00AM!
 Special commemorative dedication and prayer cards will be handed  out after the mass in honor of our patron saint. 
PRAYER
"O Saint Joseph, I never weary contemplating you and Jesus asleep in your arms; I dare not approach while He reposes near your heart. Press Him in my name and kiss his fine head for me and ask him to return the Kiss when I draw my dying breath." "Saint Joseph, Patron of departed souls – pray for me.