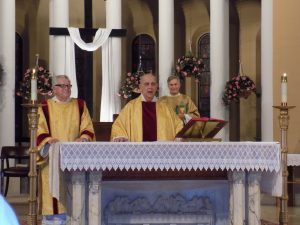 You can find a links below that you can watch Msgr. Carfagna celebrating Masses.
We will continue to have the live streaming  Mass throughout the Coronavirus of Sunday Mass at 8:00 on Facebook.
Spread the word to fellow parishioners who are unable to attend weekend Mass they too can watch our own pastor in our beloved church for Sunday service.
13th SUNDAY IN ORDINARY TIME
https://youtu.be/iYbb2MvXUl0
14th SUNDAY IN ORDINARY TIME
https://youtu.be/PD5cvEGcyNA
17th SUNDAY IN ORDINARY TIME
https://youtu.be/ZSxZdxE0rH4
18th SUNDAY IN ORDINARY TIME
https://youtu.be/_z42Y8nfTSQ
19th SUNDAY IN ORDINARY TIME
https://youtu.be/pc7R_4Hw1QQ
ASSUMPTION OF THE BLESSED VIRGIN MARY
https://youtu.be/DZ009LErLmc
22nd SUNDAY IN ORDINARY TIME
https://youtu.be/fxu7xMt5sUk