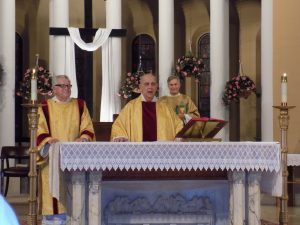 You can find a link below that you can watch Msgr. Carfagna celebrating Mass this past weekend at 9:00AM.
We will continue to have the live streaming  Mass throughout the Coronavirus closings of Sunday Mass at 9:00 on Facebook. Please understand this is on Facebook only and not open for the congregation to attend.
Spread the word to fellow parishioners so they too can watch our own pastor in our beloved church for Sunday service.
4th Sunday of Lent
https://youtu.be/jg0TfMYFfJ0
5th Sunday of Lent
https://youtu.be/OOg87wi96wI