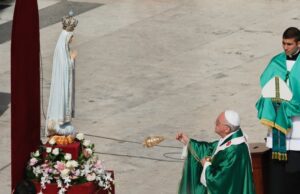 On Friday, March 25, 2022, the Holy Father, Pope Francis, will be praying and will consecrate Russia and Ukraine to the Immaculate Heart of Mary at 5:00 p.m. in Rome.  That is 12:00 noon here in Ohio.
 St. Joseph Catholic Church will be open for private prayer on Friday, March 25th from 11:30AM to 1:30PM to pray with the pope during this time in support of the Pope's consecration
and for peace in Ukraine.