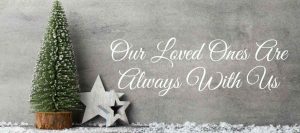 Christmas flowers and decorations will be available for a deceased friend or loved one during this holiday season. Names of those memorialized and donor's name will be published in the December 20th  bulletin and posted on our website. A memorial may contain up to three (3) individuals or families for a minimum donation of $10.00. Forms are available in the weekly bulletin or simply write the names, given by and contact phone number and turn it into the rectory office with your payment.
No memorials will be taken over the phone.
COPIES OF THE MEMORIALS ARE AVAILABLE AT THE RECTORY OFFICE!