This spe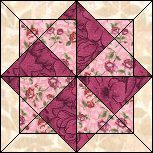 cial group of individual people share of their talent in making beautiful quilts/bedspreads.
They will complete quilts for those who would like to have this done. They also have an Annual Quilt Raffle where they sell chances to win a completed quilt.
The quilters will be retiring and are having one last Quilt Raffle on October 11, 2016. Tickets are available in the rectory office.
Please support this wonderful group of ladies who have served in this ministry for decades.