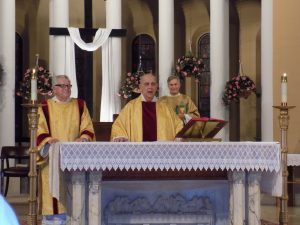 Msgr. Carfagna will be live on Facebook saying this coming Sunday Mass @ 9:00AM. This will be live streaming only and not open for the congregation to attend. If you have a Facebook account search for "Saint Joseph Church Canton" and click on join. Please spread the word to join in and celebrate Mass with Msgr. Carfagna in your church!
Last weekend's Mass can be viewed under the CLOSING UPDATES tab on the menu of this website.
When regular weekend Mass begins again on May 30/31 the Live Streaming on Facebook will be from the 8:00AM Mass and can be viewed live at that time, or will be posted for viewing anytime after that.