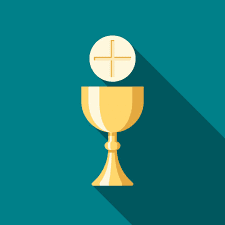 DUE TO THE CORONA VIRUS THE BISHOPS OF OHIO HAVE DECIDED, EFFECTIVE IMMEDIATELY TO SUSPEND TEMPORARILY ALL PUBLICLY CELEBRATED MASSES/LITURGIES, AT LEAST THROUGH THE CELEBRATIONS OF HOLY WEEK AND EASTER. THE BISHOPS DISPENSE THE CATHOLIC FAITHFUL WHO RESIDE IN THEIR RESPECTIVE DIOCESES AND ALL OTHER CATHOLICS CURRENTLY IN OHIO FROM THE OBLIGATION OF ATTENDING SUNDAY MASS THROUGH EASTER.
We will continue to have the live streaming  Mass throughout the Coronavirus closings of Sunday Mass at 9:00 on Facebook. Please understand this is on Facebook only and not open for the congregation to attend.
Even though weekend services are temporarily suspended we still need your Sunday contribution support in order to maintain our beautiful church, building and grounds. Please consider dropping off or mailing your Sunday contribution envelope.
This may be a good time to call the rectory and set up  electronic deduction! Please use this easy to fill out form to have your contributions taken electronically. If you have any questions or problems filling out the form just call the rectory and ask for Tina. She will be happy to guide you through the process.
ACH Automatic Deduction Form10112018
Your health  and well being is our number one concern and prayers are with you all through this difficult time.