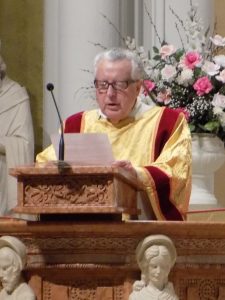 Dear Friends and Fellow Parishioners,
I want to take this opportunity to express to all of you my heartfelt appreciation for your cards, emails, and prayers. They have meant more to me then words can express. As most of you know I have been having some rather serious health issues during the last six months. These issues have required that I do some real soul searching about my role as a deacon at St. Joseph parish. I have served nearly thirty-six years as a deacon at St. Joseph's and during those years I have gotten to know and work with so many of you. I was privileged to be a part of receiving many of you into the Church as part of the RCIA.
You have invited me to witness your weddings, to baptize your children and grandchildren. As part of the former Adult Growth Committee, we tried to provide Faith Enrichment opportunities and even road trips to build a greater sense of community. I have stood on the steps of our beautiful sanctuary in times of joy and of sorrow and tried to preach homilies that were timely and that gave glory to God. All this and much more has been a great source of joy in my life. Because of that fact it has made my decision to retire from active ministry a difficult one. While it has not been an easy decision, I feel that it is the right choice for me at this time in my life. I love St. Joseph parish and its people and will always miss you. I ask that you remember me in your prayers as I continue my return to good health and be assured that I will always remember you in mine. God Bless.
Wil Bagley, Deacon